Depending on the type of construction and project requirements, Posse can design the building envelope as a plastered exterior thermal insulation (ITEC) or as a ventilated suspended facade (FSV). Many construction projects combine these two methods to take advantage of the properties of each.
Plastered exterior thermal insulation (ITEC)
A plastered exterior thermal insulation (ETI) improves the energy properties of a new construction, or of the envelope of an existing building.
Applied within the framework of renovation works, it also allows to revalue it on the aesthetic level – even to offer it a new aspect.
ITEC's systems offer the main advantages:
The use of insulating materials with a low thermal transmittance already makes it possible to achieve very good energy values with thin structures.
The various assortments available on the market allow for great creativity in the design of surfaces.
The systems allow the structure of the façade to be resistant to pressure.
Façades with ITEC are a cost-effective solution that has evolved over the last few decades to become the most common method.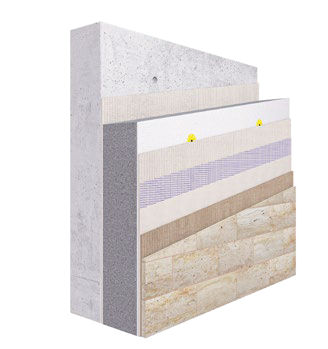 Ventilated facade (FV)
In the case of ventilated facades (VF), a layer of air separates the thermal insulation from the covering. This solution brings an improvement in the physics of the building. It also offers great freedom in execution and design through the use of highly durable and maintenance-free materials.
The main advantages of this type of construction:
The structure, which is made up of separate layers, ensures that damage caused by moisture and weather is permanently prevented.
The facade construction easily absorbs the tolerances of the rough construction.
VF systems are extremely sustainable solutions due to their high energy efficiency and fully recyclable components.
Ventilated facades are suitable for new construction and renovation.
There are virtually no limits to the design of surfaces and coatings.
Let the professionals at Posse – local painting company in the French-speaking part of Switzerland – help you make sense of it. Call us now or leave us a message via the contact form, e will get in touch with you to provide more details about your request.